Memorial Day weekend has come and gone, which means one thing—backyard grilling season is upon us. Give your next barbecue bash a boost by trying one of these 10 mouth-watering recipes, courtesy of our favorite bloggers and chefs. Trust us—your guests will thank you for finally retiring those store-bought dogs and potato chips!
Skirt Steak with Chimichurri Sauce
Photo via food52.com
Give your tried-and-true tri-tip a break this year by splurging for skirt steak instead. Pair the rich flavor of skirt steak with a tart, herbacious Argentinean chimichurri sauce from food52.com, and your guests' mouths will be watering for more!
"Haute Dawg" with Brisket Chili, Pickled Onions and Pepper Jack
If a hot dog is a must-have on your BBQ menu, look no further than Richard Blais' twist on the ol' America favorite captured on ABC News. Blais is not known for his simple recipes—so give yourself plenty of time for trial and error.
Grilled Brie and Blackberry Basil Smash Salsa
Photo via halfbakedharvest.com
No lie: the picture of the creamy, grilled brie topped with gooey blackberry goodness ultimately sold us on this recipe from halfbakedharvest.com. Could it replace your traditional chips and salsa?
Lemongrass Chicken Wings
Photo: Ray Kachatorian. Courtesy of Yahoo!
Curtis Stone offers up a new take on the classic chicken wing on Yahoo!. Make sure to give your wings a nice char…and pair it with a cool margarita.
Barbecued Portobello Mushroom Sliders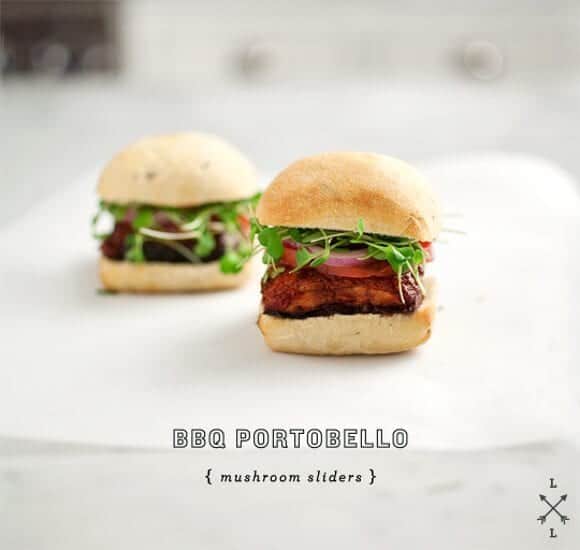 Photo via loveandlemons.com
These cute, yet flavorful little numbers from loveandlemons.com will keep the vegetarians in your group happy. Even meat lovers have been known to devour them!
Grilled Corn with Bacon Butter and Cotija Cheese
Photo via howsweeteats.com
 You had us at bacon butter. This sinful sweet corn recipe from howsweeteats.com combines our two favorite foods.  There's not much else to say, except try it. Please. You can always pull a double workout the next day.
Black Bean Corn Salad with Chipotle Honey Vinaigrette
Photo via onceuponachef.com
Skip the potato salad and opt for something with more flavor this summer.  How about this crowd-pleasing, make-ahead Black Bean Corn Salad from onceuponachef.com? The chipotle balances the sweetness of the honey vinaigrette, while the black beans and corn offers traditional Southwestern flavors. Vegetarians will love it.
Balsamic Kansas-Style Ribs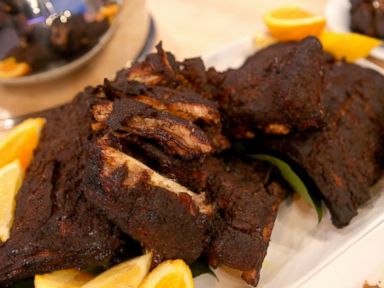 Photo via ABCNews.com
Give the tangy barbecue sauce a rest this year. Instead, opt for Fabio Viviani's yummy ribs recipe from his cookbook, "Fabio's American Home Kitchen." He manages to fuse American and Italian like no other.
Smoky Grilled Sweet Potatoes with Cilantro Lime
Photo via kitchentreaty.com
 Want a healthier alternative to those preservative-packed potato chips you serve every year? Try grilling vitamin-rich sweet potatoes, thanks to kitchentreaty.com. Rub thin-sliced sweet potato slabs with spices, top with cilantro and enjoy!
Jalapeno Egg Burger with Bacon Aioli
Photo via lifesambrosia.com
 We wouldn't have felt right about excluding a burger from our grilling list. This recipe from lifesambrosia.com caught our eye, and it's not because it has bacon in the title (although it doesn't hurt). From the creamy, bright sauce bacon aioli sauce to the juicy jalapeño slices and that egg— it pretty gives us everything we want in a burger. Big, bold flavor that you won't soon forget.
Which new recipe do you want to try out at your next BBQ?